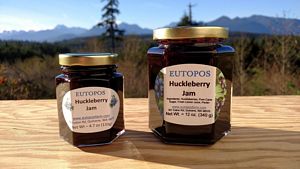 EUTOPOS HUCKLEBERRY JAM
Whole huckleberries, crushed with pure cane sugar, fresh lemon juice and pectin; lovingly stirred in small batches for the deepest huckleberry flavor you'll ever savor. These are EUTOPOS Huckleberries (Vaccinium Ovatum), a very different rich variety that only grow wild in certain areas of the Pacific Northwest.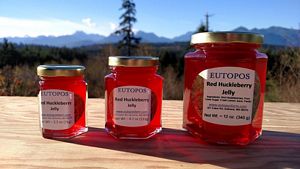 EUTOPOS RED HUCKLEBERRY JELLY
Red huckleberries are a more tart berry. Strained of seeds and skins, this jelly is like a clear ruby gem. These berries are harder to pick and sort, but it's all worth it when you taste this wonderful sweet-tart jelly.
Limited Quantity
Call or email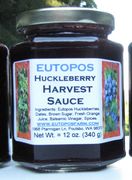 EUTOPOS HUCKLEBERRY HARVEST SAUCE
T
his Huckleberry Harvest Sauce melds together the deep flavor of EUTOPOS huckleberries, dates, balsamic vinegar and select spices. Gently warmed and ladled over roasted turkey, beef, pork loin or salmon, this luscious sauce is sure to make your celebration quite special.
Limited Quantity
Call or email